Six Decades of Experience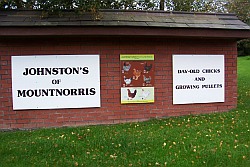 Located in the Orchard County of the Emerald Isle we are suppliers of heritage breeds of layer chicks and pullets. An independent, family business that combines the professional knowledge developed over a half a century of hatching, rearing and caring for hens with a service where all our customers become known to us personally.

Modern Hatching Facilities
Using the latest technology, high standards of hygiene and best practices in hatchery management means that you get the strongest, healthiest hens possible. Our day old chicks are sexed and comprehensively vaccinated, ready either for delivery to you or for collection from the hatchery - both by prior arrangement.